Explore The Northumberland Coast – Area of Outstanding Natural Beauty
Northumberland's Coast is best known for its sweeping golden beaches, rolling dunes, high rock cliffs and isolated islands. Amidst this striking landscape is the evidence of an area steeped in history, covering 7000 years of human activity. A host of conservation sites, including 2 National Nature Reserves, testify to the great variety of wildlife and habitats also found on the coast.
The special qualities of this coastal landscape led to it being designated as an Area of Outstanding Natural Beauty (AONB) in 1958. AONB status recognises that the Northumberland Coast is one of the finest landscapes in the country.
The Northumberland Coast AONB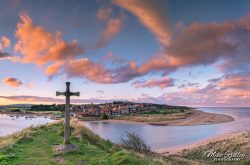 Northumberland Coast AONB offers some of the finest coastal walking in the country. Sandy beaches, rock headlands, dramatic castles and attractive coastal villages make this constantly changing landscape a pleasure to explore. The long distance walks St. Oswalds Way and the North Sea Coast Path both pass along the coastal path.
Among the other outdoor activities enjoyed by visitors are sea fishing, hunting for fossils, rock pooling at Boulmer and Howick, boat trips to Coquet Island and the Farne Islands, visiting ancient castles at Warkworth, Dunstanburgh, Bamburgh and Holy Island, cycling on the AI Sustrans Coast & Castles Cycle Route,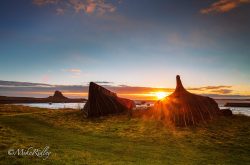 diving off the rocks, boating on the river at Warkworth, making sandcastles at Embleton Bay, visiting Howick Hall Gardens, sailing at Amble and Alnmouth, playing golf at one of the superb links courses at Warkworth, Alnmouth or Embleton, and bird watching.
Holy Island, or Lindisfarne as it was originally known, is one of the most important sites in the history of Christianity in Britain. It was here in AD635 that St. Aidan founded a monastery that was to become the spiritual and educational heart of Northumbria in its "Golden Age"
Bird Watching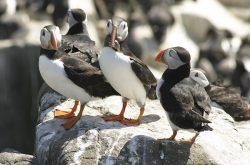 Hauxley, south of Amble, Newton Pond in the centre and the Farne Islands and Budle Bay to the north are wonderful bird-watching centres with over 100 species of birds to delight the expert and thrill the beginner.
Photographers find plenty to keep them interested from early dawn over Dunstanburgh to sunset over the Cheviot, with stunning skies and seascapes as well as spectacular views and action shots.
Here, we give you just a snapshot of the beautiful Northumberland Coast (designated Area of Outstanding Natural Beauty – AONB) There is, of course, much more to offer. One thing is for sure, wherever you stay or wherever you enter the Northumberland Coast AONB you will be smitten, be warned!
See also our pages for:
Alnwick Coast : Bed & Breakfast • Self-catering